Top US Travel Destinations
Whether you're looking for a relaxing beach getaway or want to fill your time with the sights and sounds of a bustling city, you can find your perfect destination right here in the US. Below, you'll find a list of some of the most exciting and unique cities in the US and the adventure that awaits you at each destination.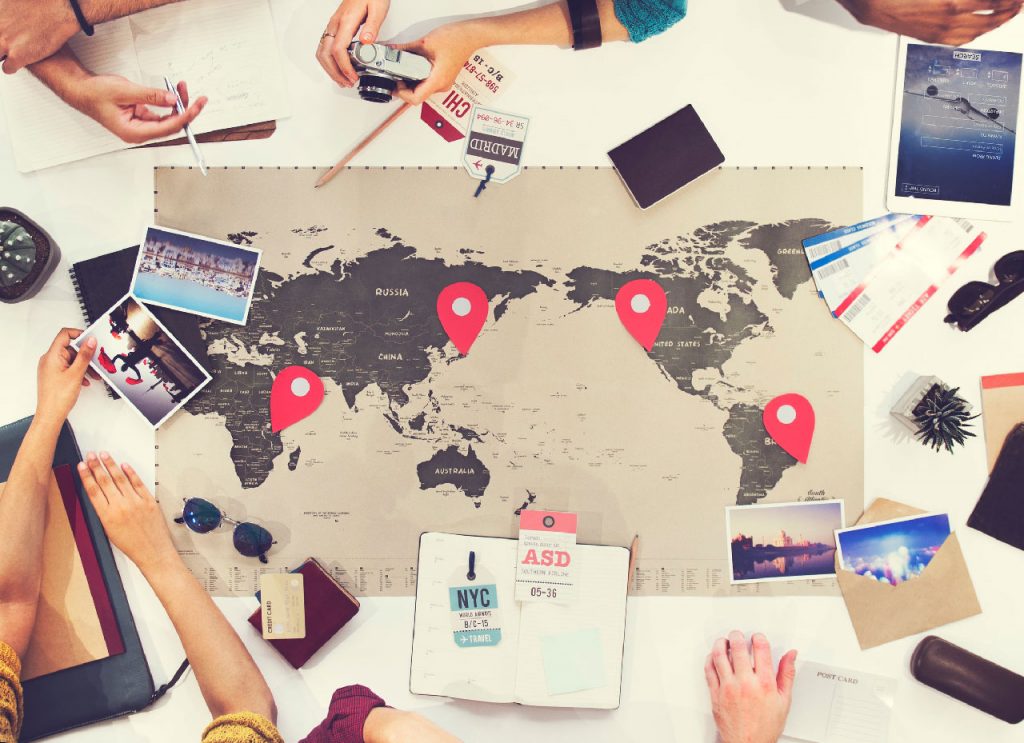 Grand Canyon
If you want to feel small, yet part of something so much larger than yourself, consider going to the Grand Canyon. The views you'll find are one of a kind and will fill you with awe and wonder. Not only is it a great chance to explore nature (there are several incredible paths for hiking), but it's a fantastic spot to explore your adventurous side. Because the Colorado River runs along the 277 mile long canyon, the Grand Canyon is an ideal spot for white water rafting. If you're looking for something a bit calmer, stay in one of the Grand Canyon lodges or campgrounds for a spectacular stargazing experience.
Yosemite
Yosemite is another great destination if you want to get back to nature. Here, you'll find scenic trails that lead to Cathedral Lakes as well as several waterfalls you can explore. In fact, if you gaze upon Yosemite Falls, you'll be looking at one of the tallest waterfalls in the world. Who doesn't want that experience?
Maui
If you're looking for a tropical getaway but don't want to leave the US, then you should book your flight to Maui. It's the perfect vacation spot for couples or friends who simply want to get away from day-to-day stress and relax. Your worries will wash away as you lounge on the black sand beaches or stroll through the scenic parks. If you want to mix in a little adventure, there are incredible snorkeling opportunities in Maui. And you must indulge in the seafood before you leave.
New York City
No US travel destination list would be complete without NYC. New York City is packed with incredible sights, sounds, and food. You could spend a week there and still not run out of things to do. You'll have to push through crowds to get to some of the more iconic tourist sights, but it's well worth the effort. Spend the day visiting the Empire State Building, The Statue of Liberty, and Rockefeller Plaza. Indulge the foodie within with New York style pizza before you head over to catch a show on Broadway. If you're into art and culture, you'll feel overwhelmed (in the best possible way) as you explore New York's Metropolitan Museum of Art. And, while the locals might hate it, you should venture into Times Square before you leave. You don't want to travel to NYC without getting an iconic Times Square selfie.
New Orleans
New Orleans is a city filled with life, love, and music. Here, you'll find a variety of cultural influences in architecture, music, and food. It's a feast for the eyes, mouth, and soul that you simply don't want to miss. With a fantastic and unique blend of European, Spanish, and Caribbean influences, you'll be in awe at every turn. Visit the French Quarter to experience the best New Orleans has to offer. The buildings alone are enough of a reason to go, without the amazing eateries, bars, and music you'll experience. Local artists line the streets, offering sensational music, works of art, or thought provoking poetry. The city is alive with a mixture of jazz and blues that will stir your soul and move your feet. If you want to experience New Orleans at its finest though, you should schedule your visit during Mardi Gras (unless you don't like crowds). Mardi Gras is the party to end all other parties, featuring eye-catching costumes and massive floats, loud music, and people celebrating as though the world were about to end. It's a sight you'll never forget.
Aspen
Aspen has a little something for everyone. Obviously, it's a world class ski destination, but it also offers unique boutiques, chic dining options, and stunning entertainment. While you're there, catch a performance at the ballet, take your date to the art museum, or get drinks at the 7908, Aspen's first restaurant, bar, and nightclub all in one. If you're looking for adventure, there's no shortage of opportunities. Visit one of Aspen's ski resorts or hop over to their Motorsports Park, where you can jump into the driver's seat of a race car. You can also enjoy amazing views while paragliding, or enjoy the winter weather while ice skating. During the summer, explore their scenic hiking trails or try your hand at fly fishing. No matter when you go or what you do, Aspen is sure to impress.
Chicago
Known as the Windy City, Chicago has an abundance of culture and entertainment to offer its visitors. Take a stroll with your significant other or friends as you admire the incredible architecture throughout the city and visit a few museums. If you're a nature lover, you'll enjoy the stunning views of Lake Michigan. If you travel during the winter, head over to Maggie Daley Park for a night of ice skating fun. Whatever you do, make sure you indulge in Chicago's amazing cuisine. Delight your taste buds with Chicago-style hot dogs and deep dish pizza. You won't be sorry. Before you leave the incredible city, don't forget to get your picture taken in front of Cloud Gate.
Las Vegas
Known throughout the United States as Sin City, this incredibly vibrant destination has an abundance of entertainment to offer its visitors. When you think of Vegas, you might think of wild bachelorette parties and love birds who want to be married by Elvis. While it's the perfect city for those activities, it also has a lot to offer families, couples who don't want to get married, and friends just looking for some fun entertainment. Here, you can test your luck at the casinos (and possibly win it BIG). If you don't want to gamble your money away, that's okay. There's plenty more to do. The Las Vegas strip is filled with buffets that will blow you mind, spas that will help you relax and forget your worries, and mind-blowing performances. Cirque Du Soleil, magicians, dancers, and comedians all call Vegas home and would delight in the chance to entertain you for the evening. Plus, you can visit Paris, Egypt, and Italy without ever leaving the US. That alone is worth the visit.
You don't have to travel overseas for a cultural experience. Any one of these incredible US destinations would make an unforgettable trip, filled with lasting memories and exciting adventures.
Want to learn more? Sign up to follow us.